About Heart Notes Vision
"That congregations of all sizes/traditions will be equipped spiritually and practically to offer worship worthy of God the Father through our Lord Jesus Christ, building up Godís people in the power of the Holy Spirit."
Heart Notes achieves this through: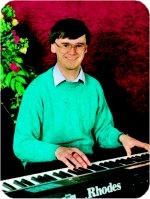 Public Workshops which are open to all to attend, enabling quality training and on-going support for musicians, worship leaders and their technical teams
Accepting local church invitations to work with/develop your worship teams
Offering songbooks, CDís, and Web downloadable materials equipping the church with resources (music/drama/prayers) for use in a variety of settings
Organising worship celebrations - e.g. "Worship @ Godís Throne"
Other speaking and teaching engagements at Bible Colleges, conferences etc
Engaging people in a hands on experience, regardless of ability
Encouraging fellowship and support who want to draw closer to God
Envisioning young people to get involved bringing their gifts and skills to worship
Restoring the "awe and joy" to worship by developing worship enablers
Paul Barnsley
Paul Barnsley (F.T.C.L.), is a professionally qualified musician with over 30 years teaching and training experience, who has recorded and written a variety of worship material. He is a national Charity Trustee for the Music and Worship Foundation (registered charity 290417) and has lectured on Cliff Collegeís "Music, Spirituality and Worship" course. A worship leader at Cheadle Hulme Methodist Church, Paul also often leads music/worship at ecumenical events and retreats. Heart Notes has a large network of contacts across the Northwest (over 3,500 contacts in 3,200 churches + details of 2,350 leaders). Paulís work is supported and supervised by the Trustees (including Dennis Wrigley from the Maranatha Community, Rev Gill Newton and Graeme Smith) and other support group members.
Please contact us if you would like to host a public workshop, organise a church visit, or assist in prayer/practically/financially.
As Recommended by
Chris Bowater (Lifestyle Ministries)
Rev Brian Hoare (Former President Methodist Conference)
Roger Jones (Christian Music Ministries)
Geoff Weaver (former Outreach Director, Royal School of Church Music)